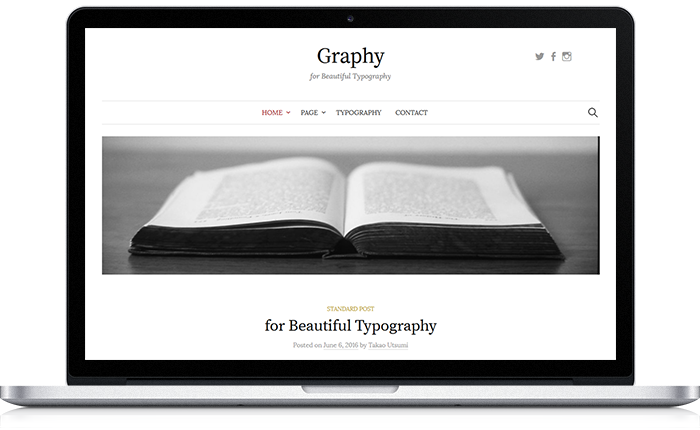 Graphy is a blog-oriented WordPress theme designed with great attention given to the beauty of the typography. Made using mobile-first responsive web design, even when your site is viewed on a smartphone or tablet there will be no negative impact on the beautiful typography.
Responsive Design
Graphy was built with mobile-first responsive design in mind, so it offers a pleasant reading experience on both smartphones and tablets.
Customizer
Graphy supports the following customization options: Colors, Logo, and Header Image. Graphy Pro also supports Fonts, Title, Featured Posts, Post Display, Category Colors, Footer, and Custom CSS.
Widget Areas
Graphy supports the following widget areas: Sidebar, Footer 1, Footer 2, Footer 3, and Footer 4. Graphy Pro also supports Sticky Sidebar and Instagram Widget.
Custom Widgets
Graphy supports the following custom widgets: Graphy Profile and Graphy Recent Posts. Graphy Pro also supports Graphy Featured Posts.
Menus
Graphy supports the following menus: Main Navigation and Header Social Links. Graphy Pro also supports Footer Social Links and Footer Menu.
Page Templates
Graphy supports the following page templates: a Normal Page, a No Sidebar Page, and a Full Width Page, allowing you to create flexible pages.
Multilingual Support
Graphy supports multiple languages. Currently supported languages are English, Germany, and Japanese. Typography has been appropriately adjusted with CSS for Japanese.
Clean Code
Graphy is made with people who want to customize its code in mind and adheres to WordPress standards while maintaining clear, readable code.
Upgrade to Graphy Pro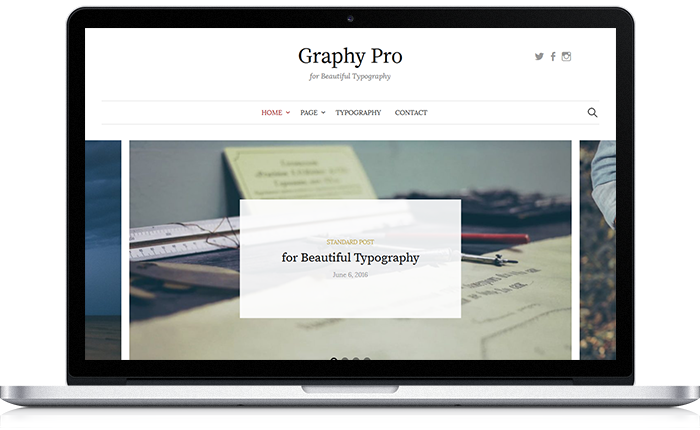 Featured Posts
With Graphy Pro you can set the posts that will be featured on the homepage slider as well as in the Graphy Featured Posts widget.
Post Display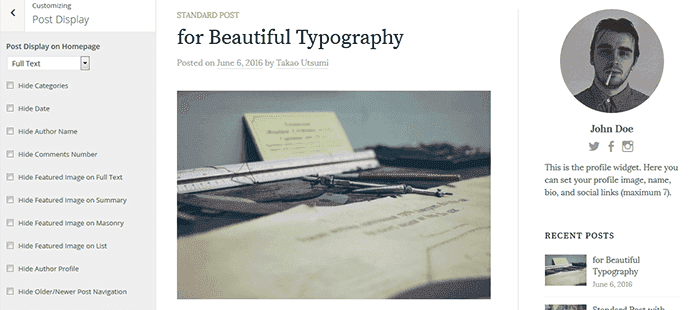 With Graphy Pro you can set how posts are displayed on the blog posts index page. You can also hide elements such as categories, date, author name, comments number, featured image, author profile, and post navigation.
Footer

With Graphy Pro you can set the footer text and hide the theme credits. You can also set Footer Social Links and Footer Menu.
Mail Support

With Graphy Pro you can receive 1-on-1 personal support via email. Unlike forum support, your site and support information will not be visible to other people.
Compare All Features
Graphy
Graphy Pro
Responsive Design
Customizer
3
10
Fonts
Colors
Title
Logo
Header Image
Featured Posts
Post Display
Category Colors
Footer
Custom CSS
Widget Areas
5
7
Sidebar
Sticky Sidebar
Footer 1
Footer 2
Footer 3
Footer 4
Instagram Widget
Custom Widgets
2
3
Graphy Profile
Graphy Recent Posts
Graphy Featured Posts
Menus
2
4
Main Navigation
Header Social Links
Footer Social Links
Footer Menu
Page Templates
3
3
Normal
No Sidebar
Full Width
Multilingual Support
Clean Code
Support
Forum
Mail
Price
Free
$59

–




Limited Time

Download Graphy
Buy Graphy Pro
You Might Also Like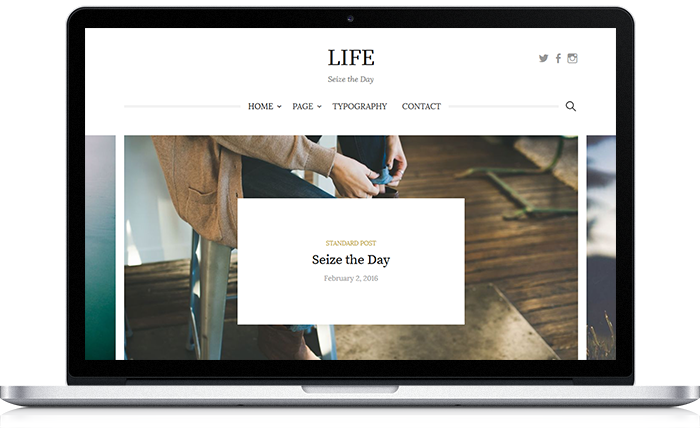 Life is a simple yet bold WordPress blog theme that leaves a modern impression by focusing on images and white space. It's recommended not just for male users, but female users as well.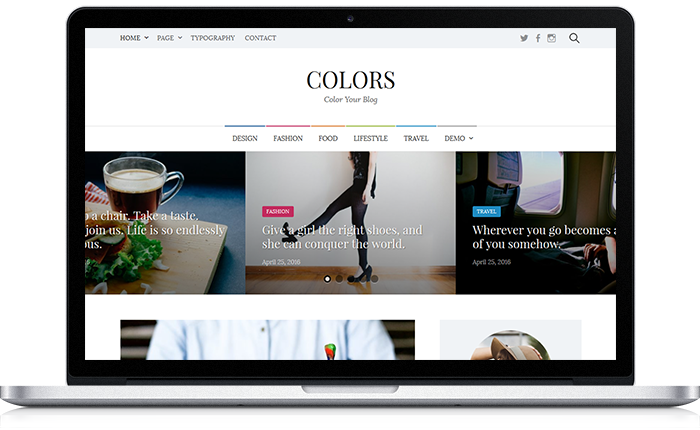 Colors is a simple WordPress theme for blogs and magazines. It supports category colors, allowing you to easily create a colorful website.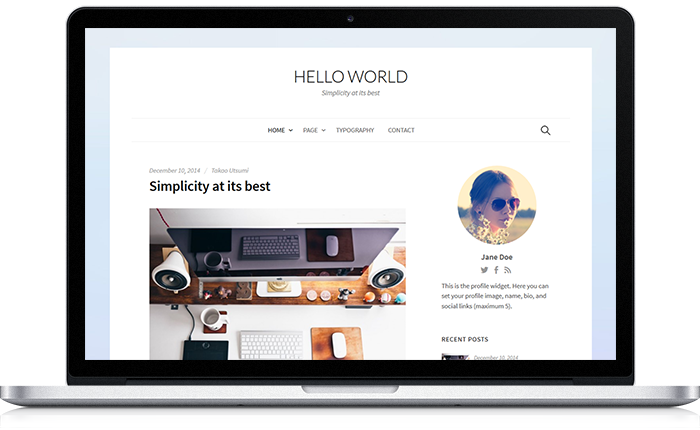 Hello World is a simple but high quality WordPress blog theme. From WordPress beginners to experts, it's made for everyone who wants a simply beautiful blog.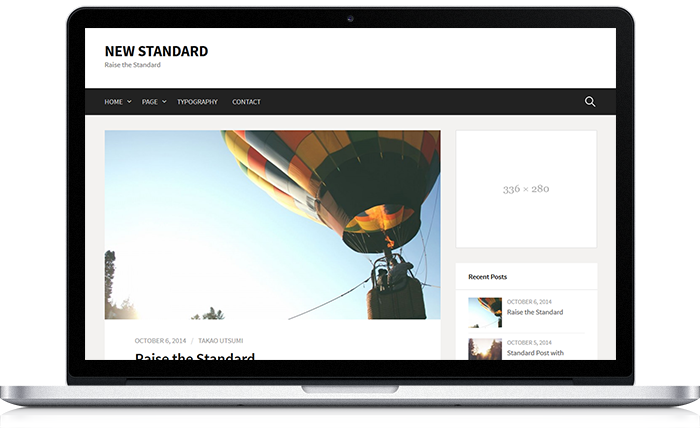 New Standard is a professional WordPress blog theme made with bloggers who wish to increase pageviews and revenue in mind.